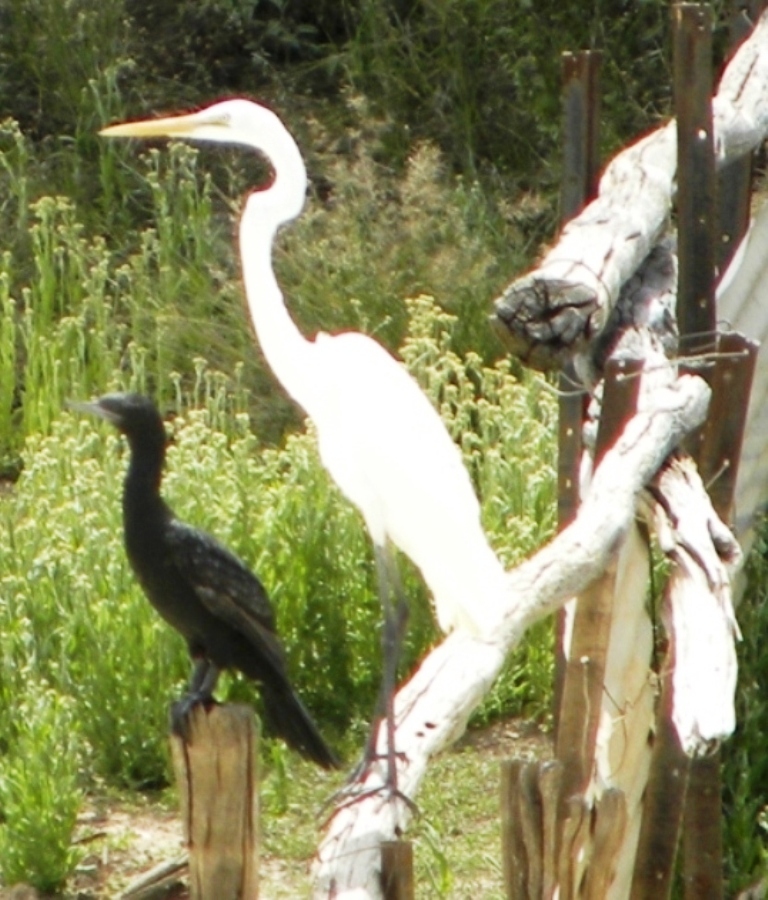 What makes a perfect hunt? I pondered the question in subdued silence, watching my mates rib each other in front of the blazing warmth of an open fire. The homestead was a great place to be on a cold, outback winters night as we enjoyed a quality red.
Steve was reliving the fine long range shot he took on a running boar. Russell couldn't help reminding him of an occasion when things hadn't quite come together in the way he would have preferred. That's what mates do to each other. They may have been shaped by various life experiences but the act of hunting forces theses differences to be accommodated. Steve's capable, so he can take the gentle ribbing.
As we wound down after a long day, I was quietly thanking Russ for his self discipline. Around midday we had stopped alongside a creek that snaked its way down to theParooRiveracross the red, gravelly soil of westernQueensland. Russ was keen to experience an outback hunt, but hadn't been bush for a long time. While he set up his GPS as a back up, I went for a wander up a branch of the creek and found fresh sign close by. As he locked in our position on the GPS, I whispered a plan into his ear, briefing him on the details of how we would work the sign.
We followed the creek up to thenorth west. Russ was off to my right as I followed the edge of creek line. As we carefully eased our way up the water course, we found more sign, so fresh the red soil was still trickling down off the edges of the diggings. We communicated with hand signals, not daring to disturb the land with even one spoken word. We continued to stalk up the creek into wind, stepping gingerly over any dry branches that would snap a warning across the landscape. We eased our way between scrub that could easily scratch an alarm against our clothing. Suddenly I heard the blast of his 30/30 and the angry grunt of a surprised pig.
Things happened fast after that. A charging pig exploded into view, heading straight toward me. I was blocking his line of escape. Between the branches of the scrub and the dazzling light of the midday sun, I had a vague impression of Russ tracking the pig with theWinchester, but he didn't fire. The pig suddenly burst into view from under a bush. I scoped him instantly through the 2 – 7 Leupold set on 2 power on myBrnocombination, both eyes open as always for better field of view.
The snap shot from the 12 gauge slammed him onto the ground barely two metres away. Over the next few seconds I contemplated the situation. If I had missed the shot, I'd most likely be off to the local medical centre for stitches and a tetanus shot. If Russ had fired, it was possible I'd be wearing a 170 grain soft point as hisWinchester, the pig and myself had been almost lined up. If his bullet had missed, I'd at least need a change of trousers!
Those few minutes had been a perfect hunt. First, reading the land to locate a likely area. Any animal needs water, food, shelter and breeding opportunities in an order of priority determined by environmental conditions. We had found such an area and then located fresh sign. Disciplined team work to a clear plan put us in the right spot to surprise our game. In the final heat and confusion of the moment, the same team work and self discipline delivered success in complete safety the way we had briefed.
Hunting with others demands concentration and a high level of self discipline. Russ may have been away from the bush for a long time, but when it really counted he still had what it takes to operate under pressure. I was impressed and thankful.
What makes a perfect hunt? The question still needed answering as I reviewed the day while the friendly banter continued. Success is wonderful, but not essential. For me, the quality of the hunt is even more important. The sights, sounds, smells and constant anticipation of what the next minute may bring have a unique pleasure that urbanised life cannot deliver. Many activities can deliver a similar sensation, such as parachuting, flying, scuba diving, sail boarding or even riding a motor bike. Every activity that delivers the buzz involves getting out there and managing an element of risk. Our risk sensitive modern existence is reducing the opportunities to be a participant in nature instead of a silent, uninvolved observer.
Success is one aspect of the perfect hunt. There is another element captured by words like comradeship and mateship. The act of hunting provides a rare opportunity to bond with other people in a shared, focussed purpose. Whether one is involved in trophy hunting as part of animal control, culling feral animals or hunting for meat, the experience of the hunt provides an opportunity to engage in an environment where the superficial and artificial trappings of civilisation are stripped away. We get to see people as they really are. Can they share the responsibilities of the camp? Can they work in a team? How do they cope under pressure and the absence of comforts? Can you stake your life on them if necessary? These are fascinating questions that only activities like hunting can deliver answers.
The perfect hunt takes place when none of these concerns even arise as questions. As the banter between Steve and Russ flowed back and forth, I decided I had experienced a perfect hunt. Steve had never been in doubt.  When the need arose to find another hunting partner, I advertised! I put an ad in the local paper, looking for someone who was competent with a rifle, shotgun and handgun, experienced in remote area navigation, a capable 4WD driver, able to operate in extremes of temperature and competent in mountains, jungle or the desert. These days I'd probably be put on a watch list after an ad like that. Our lives have certainly changed since then.
 I talked to some wannabee's and the odd loony but also met Steve. It didn't take long to recognise that he'd been there and done it. Thirty years of adventure followed, years of hunting, exploring the wilderness and fantastic experiences. His indigenous background adds a fascinating perspective when walking the landscapes ofAustralia.
I was glad to be able to share the adventure with Russ. The red soil country has an attraction of its own that he appreciated, but it can be challenging for hunting. To the uninitiated, the landscape can look like semi-desert. Experience and an ability to read the land paints a different picture. Over what seems to be an expanse of flat, scrubby country, slight undulations produce micro-environments that give sustenance to a huge range of wildlife. They provide opportunities to be exploited by feral animals such as pigs, goats, cats, foxes and wild dogs. Sharing the experience with both of them was a pleasure.
Russ was struggling with an injury so he couldn't walk too far, even though he put in the effort without complaint. The situation sorted itself out naturally, with Steve and I heading off for extended separate walks through the channels while Russ stayed with the vehicle and did shorter explorations before picking us up before dark. After a long walk under tough conditions, finding him at the right spot at the appointed time was a welcome sight that hunters will understand.
The conditions were difficult with lots of growth after the floods. In places, grass along the river channels reached shoulder height and I'm a shade over six foot. My partner loves to tell the story of how she saw a tiger snake surf across the rushes and knock her uncle's hat off in a surprise attack. I always remember it when I'm hip or shoulder high in the growth among the channels. Her mischief knows no bounds! Getting struck by a snake out here would have an unpleasant outcome, regardless of the first aid kits we carried.
One morning I had more than four hours of stalking under my belt along an overgrown channel when I saw the goat. It was a billy and his horns were spectacular. He was climbing out of the channel, about to be lost amongst the growth that had sprung up after the flood. I scoped him for a better view and my finger caressed the trigger, tempted to take the shot. I hesitated in spite of his horns. I'd never seen anything bigger in the wild, but I was here to shoot pigs. The goats were rounded up whenever possible by the property owner. I knew he would never miss one, but thoughts of trust and honesty kicked in. He gave us free rein on his land and trusted us so it was a matter of principle.
I swung the rifle away from the billy and caught the vague impression of shapes moving through the yellowed grass. Probably more goats but I swung back for another look. Between gaps in the grass and scrub I saw the outline of pigs moving up out of the channel, heading out into the dry, gravelly red soil country. I jumped down into the channel, scrambled up the opposite bank and took a solid rest against the trunk of a straggly acacia for a careful look through the scope. One was ginger and the other black, about 80 metres away, partially hidden amongst the grass. Which was the boar? I swung the scope left and right, trying to pick up a clue before they disappeared into the scrub whose shadowy presence on the edge of my scope threatened to swallow them forever.
A lot of boars are black, but I took a random punt and lined up on the ginger shape amongst the grass and touched the trigger. The blast of the 7 x 57 was followed instantly by the ginger pig dropping into the grass. I rushed forward, breaking the action and reloading from force of habit. I had lost the pig in the grass but caught sight of the black one standing sideways under the scrub in the shadows under the acacia. I swung theBrnoup and fired in a smooth movement just as the pig launched forward. It was a clean miss. I cursed myself for being a touch slow. With aBrnocombination, I can't afford missed shots but we all have them.
Scouting around, I found the ginger pig. It was a boar. The black one had been the sow. What luck! I had no idea what motivated me to swing from black to ginger, but there was my boar. It could have been the shape, something about the behaviour of the pigs or just long experience. I'll never know the answer to that question, but I had my boar. The tusks were better than I expected in spite of the hard red soil and gravely country.
It was another perfect hunt. It came down to locating the most likely country to find the game, persevering with the stalk into wind, checking out every likely opportunity, reacting fast to an opportunity, sound judgement, a careful shot under difficult conditions and a good dose of sheer luck. It had all come together unexpectedly to deliver success.
So what does make a perfect hunt? Reflecting over past hunts while sipping a good red led to an answer. I love to pit myself against animals in the wild, learning their habits and understanding them better. I hunt for meat, the odd trophy or to cull feral animals. All give me a sense of achievement. I can hunt happily alone, but sharing the experience with friends adds a unique aspect that goes past the actual hunt. Sharing a meal, companionship in the outback and hunting alone while relying on a mate to fulfil his duty at the end of an exhausting day is a start.        Good conversation over a red leads to personal revelations that add a special flavour.
Men are supposed to be poor communicators not in touch with their feeling. I've never found this around a camp fire or over a good meal at the end of a hard day of hunting. I can't speak for others, but on our trips we connect in ways outside the experience of urban based people. Trust and respect are earned the hard way and maintained through the demands of the hunt.
The character of modern life is reducing the opportunities where people can connect in real terms. May these opportunities continue for future generations.